Strategies for Living and Leading
Available on Amazon or from featured co-authors.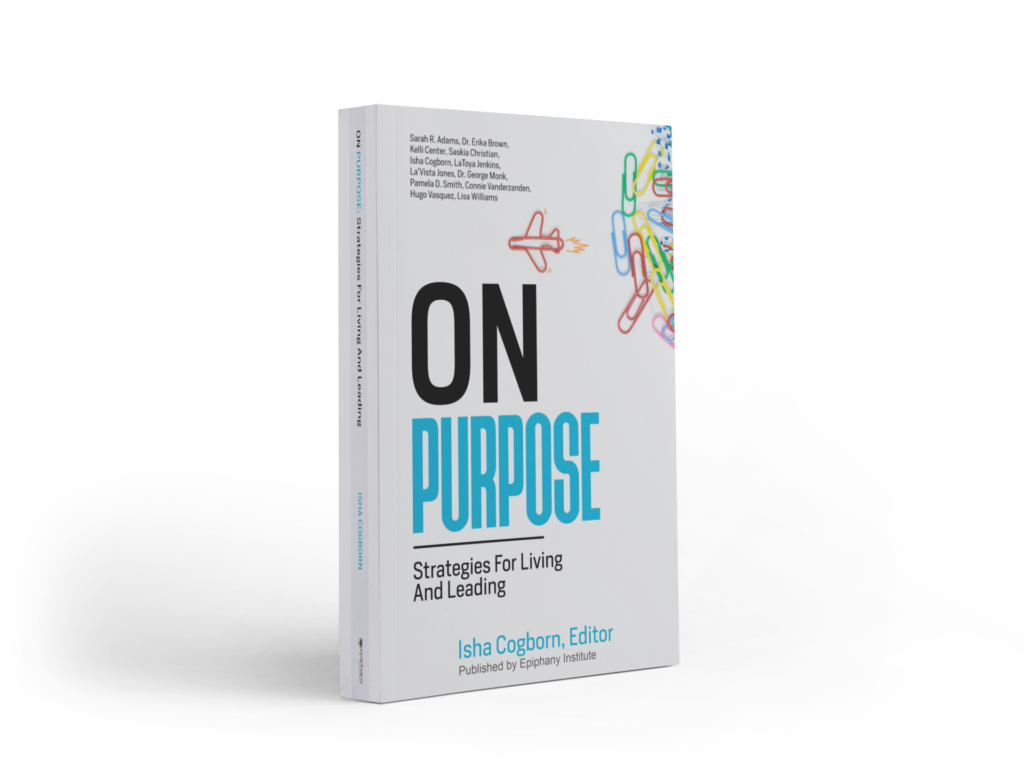 the lines between our work and personal lives have become increasingly blurred.

what does that mean for the way you live and lead?
Between working from home, demands that don't fit neatly within an eight-hour workday, and growing factors affecting mental and emotional well-being, it's difficult to compartmentalize your professional identity from your personal life. 
For leaders, that brings new challenges when it comes to supporting the success of your people. As individuals, it requires greater clarity around what success means to you and how to achieve it. The key to building a future of work where both employees and the bottom line thrives is equipping individuals at all levels to create it. 
On Purpose: Strategies for Living and Leading addresses challenges faced by leaders, individual contributors and entrepreneurs that aren't necessarily new, but whose impact are significantly changing how we live, work, and lead today. 
The 13 authors featured in this book want to help you:

Confidently rise into authentic leadership in times of crisis. 





Create a psychologically safe environment where teams thrive.





Reclaim your power when you feel professionally marginalized. 





Avoid burnout and break patterns of chaos that stifle your productivity.





Use the power of your personal appearance to close the gap between the way you want to be perceived and how you show up.





Build authentic confidence to boldly pursue the opportunities you desire instead of settling for what comes your way. 





Explore professional opportunities that provide a greater sense of purpose and impact. 
Published by Epiphany Institute Founder Isha Cogborn, this book is the third installment in the On Purpose series, amplifying diverse voices in personal and professional development.
Isha Cogborn is the founder of Epiphany Institute, a professional development company devoted to helping people create a career they love. She realized this was her life's work when she was the employee communications manager at a Fortune 50 global corporation. She loved telling the stories of employees and teams making an impact and helping everyone in the company see their ability to influence the success of the organization. In fact, "call Isha" was synonymous with accomplishing something noteworthy.

As a certified business and life coach, strategist, and consultant, Isha works with managers and individual contributors to create an environment where people feel emotionally connected to their work, operating with more passion, creativity, and commitment. Her clients include Fortune 100 corporations, professional organizations, entrepreneurs, and subject-matter experts. Isha also uses her background in media, publishing, and professional speaking to help leaders and subject-matter experts deliver greater impact internally and externally.
Isha is author of several personal development books, including 5 Rules to Win Being You and the On Purpose anthology series. 
A Michigan native, Isha now lives in Mesa, Arizona. She earned a degree in Broadcast and Cinematic Arts from Central Michigan University and coaching certifications from Coach University and Compass Life & Business Designs.
A former US Army soldier with more than 40 years of military and civilian leadership, Dr. George Monk continues to make an impact in the world. As a consultant, coach and trainer, George works with leadership, managers and teams to develop the awareness, skills, and tools to personally function in ways that support the achievement of team and organizational goals. 
George uniquely understands the weight and responsibility of managing people. A Combat Arms Leader during the Iraq war, he was responsible for the welfare and training of soldiers. His passion for personal growth and development led to a second career in higher education, serving as a professor for two decades and as the vice president of an established education group providing academic opportunities for working adults. 
His vast professional experiences and training equip him to advise organizations large and small in various areas impacting organizational success, including Human Resources Management, Leadership, Quality Process Improvement, Emotional Intelligence, and Personal Formations and Development. He is a Certified Generations Professional and trained in Emotional Intelligence, MBTI, DISC, Time Management, Situational Leadership, LifeThrive Assessments, and other initiatives to increase productivity, employee engagement, diversity, and inclusion.
George earned a Doctorate in Business Administration, Master of Science in Quality Systems Management, Master of Science in Human Resources Management, Bachelor of Science in Management/Health Care, and Associates of Science in Management.
Lisa Williams is an industry professional with 25 years of experience in engineering, supply chain, procurement, and organizational leadership. A courageous, highly-regarded leader, Lisa is an in-demand facilitator and speaker within her organization and in other professional circles. Whatever the platform, she is inspired by connecting, educating, and uplifting people to improve themselves and the world around them. 
Her capacity to lead ranges from designing conferences to hosting a community podcast. Utilizing team building, ideation, and value optimization workshops, along with individual and small group coaching, she has developed strategic programs that engage and activate participants with transformations that deliver results. Central to her coaching approach is a purpose and passion to help others identify and achieve their professional goals through self-reflection, situational awareness, strength-finding, and celebration. 
She has worked with senior and executive leaders, teams, and individuals in corporations, non-profits, education, and government. Her broad network of clients and collaborators provides relevant and fresh insight to the world, which Lisa uses in meeting her client's needs.
Lisa received her B.S. in Mechanical Engineering from Prairie View A&M University and a master's in Manufacturing Management from The Pennsylvania State University. She is a Six Sigma MAIC black belt and certified by APICS CPIM, APICS CSCP, and the PROSCI ADKAR Change Management methodology.
In her spare time, Lisa enjoys being active, traveling, spa rejuvenation, and enjoying good food and libations with her village of family and friends whom she loves dearly. She lives between Texas and Michigan with her husband and son.
La'Vista Jones is the founder and CEO of 31 Marketplace, an agency committed to helping professionals do the work they love without sacrificing themselves to do it. 
As a corporate dropout turned entrepreneur, she is on a mission to challenge others to cultivate their own definition of success and to live life on their own terms. La'Vista is a business consultant, professional speaker, and host of the BOSS™ Talk podcast. 
La'Vista's latest book, The BOSS™ Shift, is anchored in implementing her signature framework that focuses on battling overwhelm with systems and self-care. 
LaToya Jenkins is an author and productivity consultant for women and families. A devoted wife and dedicated mother of five children, she and her husband own three businesses: A Themed Event, Buy Now Properties, and Jenkins Law Firm, where she serves as the business operations manager. Balancing family, business, and community presented many challenges after having her second child, which prompted her to research and develop practical strategies for living a full and uncompromising life. In 2013, she began mentoring other women and families with those strategies. Today, she has touched over 100 families as she continues to live out her dreams.
Passionate about serving her community, LaToya hosts community-building events. Additionally, she serves as a committee member of the Brain Injury Alliance of Arizona, a regional board member of Young Life Arizona, and a developmental board member of Elevate Phoenix. 
A native of Las Vegas, Nevada, LaToya now resides in Mesa, Arizona with her family. She enjoys traveling and competing in marathons and triathlons.
Connie Vanderzanden is on a mission to help entrepreneurs live the lifestyles they desire by providing them with the simple steps, structure, and discipline to create and save money. With 36 years of accounting and bookkeeping experience, she has acquired extensive industry knowledge. While on her own real-life business growth journey since 2001, Connie developed the Going Beyond Revenue cash handling system, which focuses on cash flow planning that creates profitable and sustainable businesses. 
Connie is a true Oregonian, born and raised in the beautiful Pacific Northwest, where she spends time with her husband of 36 years and their "fur kid."
Hugo Vasquez is a personal development coach and speaker who specializes in helping people overcome their fear of public speaking. Drawing on his experiences with fear and anxiety, he has developed a unique approach that combines practical strategies with mindset shifts to help individuals step confidently into the spotlight. With his relatable and empathetic approach, Hugo Vasquez has helped countless individuals transform their relationships with fear and unlock their full potential.
When he isn't writing or coaching, Hugo Vasquez enjoys learning about emerging technologies, art, and video games. Connect with him on YouTube to see his latest projects.
Dr. Erika is the founder and owner of Dr. Erika by Design. Through her consulting work, Dr. Erika helps professional and entrepreneurial women create strategic action plans to execute on their big vision. Whether you are looking to start your first podcast or rediscover your passions, she can help you think through all the little pieces that need to be completed  to execute successfully. In addition to consulting, coaching, and speaking, Dr. Erika is also a voice talent for commercial and narration projects and a podcast host.  
Dr. Erika hopes to continue inspiring women to take leaps of faith, ignore the outside voices, and live life out loud. Her dream is to help more than 1,000 high-achieving women share their story, build their dreams, and execute on their vision.
Pamela D. Smith is a personal growth and success life coach, author, and speaker who has dedicated her life to helping others discover and achieve their true potential. With over a decade of experience in coaching, she helps clients transform their lives, find their purpose, and unleash their greatness.
A published author with several books to her name, Pam covers topics ranging from mindset and motivation to goal setting and productivity. Her books have helped readers worldwide to achieve their dreams and create the lives they truly desire.
Pam has inspired and motivated audiences around the world with her engaging and empowering talks on personal growth and success. Her dynamic and authentic style, coupled with her knowledge and experience has made her a favorite among audiences of all ages and backgrounds. Whether an individual is looking to overcome obstacles, find purpose, or take life to the next level, Pam has the knowledge, experience, and tools to help them get there.
Kelli Center is a Licensed Professional Counselor and the owner of Centered Living Counseling & Coaching Services, LLC. With nearly two decades of experience, Kelli works with individuals, couples, and families from all socio-economic and cultural backgrounds. She has experience in addressing an array of needs, including depression, anxiety, relationship communication, and trauma.
Kelli feels especially called to bridge the gap between the spiritual and mental health communities, dispelling misconceptions that keep people of faith from receiving the support necessary to meet their mental and emotional needs. She is passionate about helping individuals to become mentally and spiritually whole so they can be free to live their best life. 
In addition to providing Christian counseling, Kelli facilitates training and supervision for other counselors seeking independent licensure.
Sarah R. Adams is an award-winning multimedia producer and writer with over 20 years of professional experience in broadcasting and higher education. She is also experienced in managing non-profit public relations and promotions.
Sarah has designed and taught multimedia and communication courses for university students, as well as writing, media relations, and marketing seminars for clients she coaches across the United States. She is currently working on a doctorate and dissertation research in educational technology and new literacies while working as a freelance writer, consultant, and adjunct college instructor.
In her downtime, Sarah loves reading, cooking, and swimming—as well as hanging out with friends, family, and her fiancé at home with two giant cats.
Dawn is a seasoned entrepreneur with a deep understanding of human behavior gained through her own professional transitions. She is the author of The Power is in the Pearl, which helps women in direct sales build a leadership presence.
At just 21 years old, Dawn started her first direct sales company and within her first year, she built a successful team and earned her first bonus car. Her expansion into new business ventures included a career as a licensed cosmetologist as well as a second direct sales company, which yielded another successful team. In a mere four months, she moved up two levels in the organization to Vice President status, earning an all-inclusive, five-star trip to Arizona and another huge car bonus—this time, a Mercedes.
Dawn founded her own company, Power Up Direct Sales, out of a passion for helping women reset and define their unique value, resulting in increased income, confidence, and key relationships. She supports women who want to invest in themselves to build an authentic, powerful, and polished presence that will make them unstoppable.
With her extensive experience in direct sales, certified image consulting, and cosmetology, Dawn has honed the unique ability to support others at critical points in their direct sales careers. Utilizing a non-judgmental coaching approach, she serves as a "second pair of eyes and ears," guiding women toward proper communication and behaviors to achieve their goals. She supports her clients with the right tools, resources, and guidance they need in the form of ongoing accountability and goal-oriented action steps.

Published by Isha Cogborn, this book is published in collaboration with Platform for Purpose – an initiative focused on amplifying the voices of diverse experts and thought leaders.  
If you're a subject-matter expert looking to make a bigger impact with your expertise, schedule a no-cost consultation with at TalktoIsha.com.