12 Strategies to Reclaim Your Power and Change Your Life
Available on Amazon or from featured co-authors.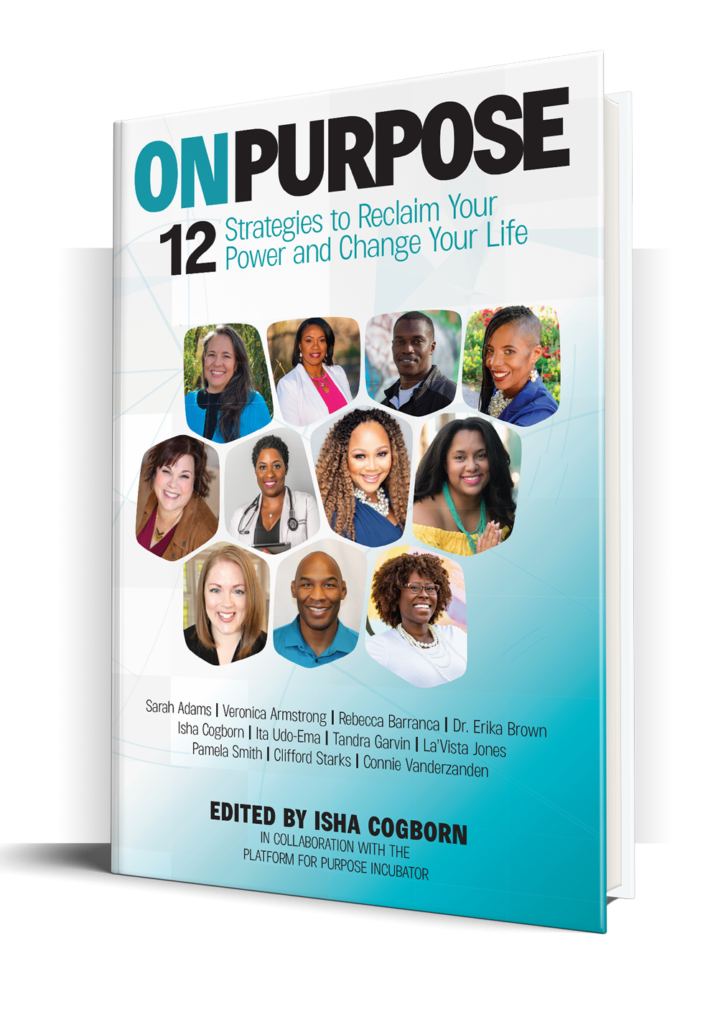 If You Want to Change the World, Start with Your Own Life
Whether you're determined to tackle the problems of the world or simply want to keep life's challenges from holding you back from the life you desire, this book is for you.
On Purpose: 12 Strategies to Reclaim Your Power and Change Your Life features contributions from experts and strategists who want to help you:
Move beyond limiting beliefs, fear and complacency.
Develop authentic confidence to boldly pursue the opportunities you really want instead of just accepting what comes your way.
Recover more quickly from setbacks.
Break patterns of chaos that sabotage your productivity.
Develop a different mindset around money in your business.
Build a platform and tap into the power of storytelling to grow your business or further your cause.
Make your health a priority by practicing your own definition of self-care and developing a more natural lifestyle.
Isha Cogborn is the founder of Epiphany Institute, where she helps people connect their purpose and passion to their profession. As a nationally sought-ought speaker, three-time author and podcast host, Isha couples two decades of experience helping corporations and individuals make a greater impact with the resilience birthed from being a teenage mother on welfare, corporate layoffs and a bout with homelessness after a failed business venture. In 2017, Isha also founded Startup Life Support to help entrepreneurs overcome the fear, overwhelm and isolation of starting a business. Isha earned a degree in Broadcast & Cinematic Arts from Central Michigan University and is member of Alpha Kappa Alpha Sorority, Inc. The Michigan native now lives in the Phoenix area, where she enjoys Netflix binges and Peloton rides.
Ita has been creating digital media for the past fifteen years. With a degree in computer animation from the Art Institute of Phoenix, Ita has co-produced three independent feature-length films, two network affiliate television programs, and published over 200 online videos. In 2005, Ita founded the media studio, View from Above Entertainment, and works as an above-the-line video producer.
Tandra Garvin is the owner of Golden Trinity Health Care and an entrepreneur at heart. Tandra is fully involved in all aspects of her patient care with over twelve years of experience. Her work spans the health care spectrum from bedside to mentoring. Tandra's primary methodology and approach to health care is to provide increased levels of preventative care and wellness education to better the lives of her patients. Mind, body and soul are her passions and provide the foundation for the care she gives to all. Tandra is also a nurse leader focused on educating and supporting nursing students through internships, providing feedback, and sharing her experience. One of her goals is to equip nurses with the knowledge and skills necessary to practice with confidence and provide quality care. She also uses her expertise to help other small businesses provide care to patients.
La'Vista Jones is a multifaceted resource, helping her clients bring order to the chaos of life and business. She believes her clients can learn how the price of success doesn't have to include burnout or broken promises to themselves. By discovering a better way to run a business, clients learn to make themselves and what they love a priority. As an author, speaker, strategist, and coach, La'Vista is leading a movement of women who want more from life than frazzled days and sleepless nights. La'Vista has an inspiring message that challenges the archaic and often coveted idea of work-life balance. Her unique magic is helping women get 'ish done, without burning themselves out. La'Vista is the founder and CEO of 31 Marketplace, an agency that blends systemization and self-care, making both simple, personal, and effective. Although she is a proud native of Ohio, La'Vista currently resides in Arizona. She enjoys living life with her favorite guys — her college sweetheart and husband Stewart; their son, publicly known as The Cub; and their Mastiff fur baby, Bulldozer.
Sarah R. Adams is an award-winning multimedia producer, freelance reporter, writer, and educator with over 20 years of professional experience in broadcasting and higher education. She has extensive experience as a television producer, on-air personality and host, radio news reporter, and author. Adams is also an experienced managing nonprofit public relations and promotions, as well as providing media consulting services. Adams currently teaches multimedia writing, media onair performance, and media criticism courses for Central Michigan University's School of Broadcast and Cinematic Arts. Website
Whether she's coaching leadership teams, executives, or women who simply desire to break out of their invisible box so they can live life on their terms, Veronica's mission is to help women find the clarity and confidence they need to go after the opportunities they deserve. Veronica is the founder of Leadership Life Support, which she created to help professional women become better leaders from the inside out. She's now extended her services to support women taking responsibility for their lives so they can live life on their terms. A certified life and leadership coach, entrepreneur, and corporate executive, Veronica brings value from both her professional and personal experiences, including a life of verbal and physical abuse and three years as a ward of the state being shuffled from group homes to foster homes, before making it to the e-suite in corporate America. An Ossining, NY, native, Veronica now resides in the Phoenix area, where she enjoys roller skating, reading, and hanging out with her husband and son. You can connect with Veronica on your favorite social media networks and subscribe to her blog at leadershiplifesupport.com.
Rebecca (Becky) Barranca, MA is a writer, public speaker, community educator, and women's ministry leader. Her goal is to use her blog, beckybarrancalivingnaturally.com to provide a go-to resource for women who are pursuing a more natural and healthier lifestyle for themselves and their family at an accessible cost. After working as an HR professional, non-profit founder, and an insurance broker for many years and keeping a very hectic schedule, Becky knew she needed to make changes to her family's stressful lifestyle. Since her first baby was born fifteen years ago, she has slowly but surely been able to adapt her household into a less toxic, more organic and natural, relaxed and intentional home atmosphere. Becky has spent countless hours researching health and natural living topics with a discerning eye. While not a medical professional, she is able to share valuable health information and natural living ideas through classes and speaking engagements. The knowledge that Becky shares empowers individuals to make better informed decisions about their health, nutrition, and the products they choose to use in their homes.
Dr. Erika Brown is the CEO of Dr. Erika By Design. In her late 30s, she suffered what some would refer to as a quarter-life crisis. She was unfulfilled in her job, her health was declining, and her mojo was a "no-go." At that point she felt that life had to be more than just working in corporate America. So, she decided to change her mindset and focus on finding her way back to the Erika she once knew long ago. As a result, she found herself on this crazy, bumpy, exhilarating ride called entrepreneurship. In a matter of six months, she changed career paths, started an internationally recognized podcast, became an author, and began to work with some amazing clients. Through her work as a coach, consultant, and podcast host, Dr. Erika is working to fulfill her purpose of helping high-achieving women share their story, build their dreams, and execute their vision.
Pamela D. Smith is a certified life coach who empowers women to grow into their next desired level. She knows what it's like to feel stuck and wants to help her clients go from enduring life to enjoying life. A certified coach with the John Maxwell Team, Pam is also an award-winning performer and trainer in the airline industry and author of the books, Harvesting Your Pearls and Becoming a Better You by Unleashing Your Greatness. She is passionate about personal growth and with her support, clients are experiencing results in months that others take years to accomplish on their own. With a lifelong passion of encouraging and helping others, Pam is an avid volunteer, supporting both domestic and international causes, including serving as a small group leader focused on personal growth at Faith Christian Center in Phoenix, Arizona. In her free time, she enjoys traveling and spending time with the loves
Clifford Starks is a retired professional mixed martial arts fighter who competed for eight years before stepping away from the ring to start a family with his wife. Clifford believes the journey of transformation includes mind, body and business. All three play key roles in success, as he has learned through his journey as a fighter, competitor, and coach. Today, as a personal trainer, life coach and author of the book, Awaken the Superhero in You, he helps clients focus on their mind, body, and spirit to live happier, more fulfilled lives. Clifford has always been fascinated with psychology which he studies in detail, while also pulling from personal life experiences. A graduate of Arizona State University, Clifford ranked third in the PAC 10 Conference as a wrestler while earning a degree in kinesiology. Always challenging himself to improve, he continues to compete in Brazilian Jiu Jitsu.
Connie Vanderzanden is on a mission to help entrepreneurs live the lifestyles they desire by learning the simple steps, structure, and discipline to create and save money. With 34 years of accounting and bookkeeping experience, a variety of industry knowledge, and her own real-life business growth journey since 2001, Connie developed the Going Beyond Revenue Cash Handling System, focused on cash flow planning that creates profitable and sustainable businesses. Connie is a true Oregonian, born and raised in the beautiful Pacific Northwest where she spends time with her husband of 34 years and their "fur kid."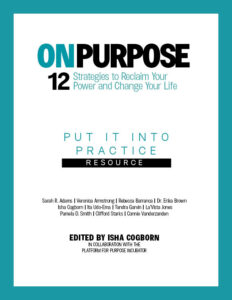 Published by Isha Cogborn, this book is published in collaboration with Platform for Purpose – an initiative focused on amplifying the voices of diverse experts and thought leaders.  
To learn how you can join the Platform for Purpose Initiative, visit PlatformforPurpose.com